Integrated Solutions
>> Monitoring IT systems
>> Monitoring software
>> Technical assistance and consultancy
>> Online presentation system
>> Structured cabling
>> Installing fiber optics
>> Maintenance and development networks
>> Hosting equipment
ICOMM - Monitoring IT systems
Based on acquired experience , we can provide infrastructure monitoring services (Network computers, VPN) hardware and software, as well as identifying and solving IT&C problems.
Our offer includes network management services which may prevent and solve problems.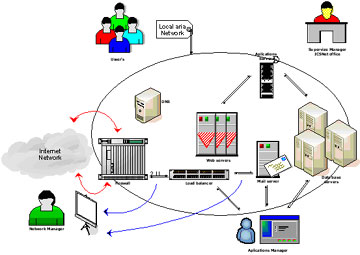 We also provide:
network design, configuration and installation of networks: installation and connection systems, installation and configuration of servers, structured cabling, network elements (switches, routers);
management and maintenance: area network servers, networking equipment, connectivity;
optimize Internet access, connection's distribution in the network;
load balancing and fail-over solutions. Distribution solutions of load balancing between connections, taking traffic on auxiliary connection if one it's crashes;
traffic monitoring, limiting and / or restrict access to certain users, content filtering, antivirus and antispyware filtering.